Sale!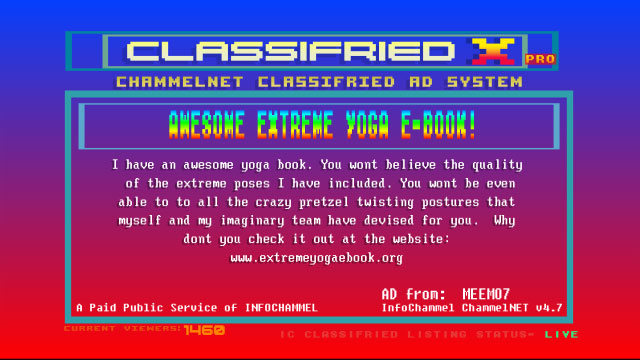 Product Description
It's the Classified Ad of the future.  Digitally Handcrafted.  A one of a kind Human Designer created HDTV Numbered Artwork.  Your purchase supports InfoChammel's Public Service.  Presenting CLASSIFRIED X PRO, on the surface a basic HDTV text program, but with our proprietary hypnotic techno-loc signal embedded to make your message resonate that much clearer!  Plus OUR Classifieds run ON TV and continue to run FOR THE DURATION OF THE NETWORK.  Plus each screen has your Chammelidenti ID ScreenTag.  HD 1080 screen emailed to you and aired on InfoChammel forup to 11,000 years. Try that, Traditional classifieds! CLASSIFRIED X PRO adds more color options to set your classified ad apart!
MAKE SURE AND FILL OUT THE FORM BELOW TO COMPLETE YOUR ORDER:
Enter CLASSIFRIED TITLE (up to 23 characters).  Enter CLASSIFRIED DESCRIPTION (up to 47 words).
Enter Chammdentifier ID (twitterhandle, email or custom name- this is your on screen tag). Any offensive content will be censored but still broadcast,  screen will be shared both uncensored/censored by email.   No personal phone numbers or personal information please.  A CLASSIFRIED X PRO screen can advertise anything legal, and non-sexual in nature.  INFOCHAMMEL can refuse an ad for any reason and will refund your money.